It's all true - read what people are saying about Suit Yourself! We've been outfitting people for skiing in Aspen and Snowmass for over 21 years! Now it's your turn...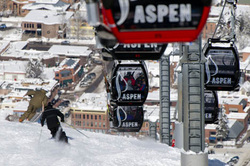 Door to Door Customer Service for couples in LOVE!
"My fiance had not skied in years and we did not want to spend the money to outfit her. Suit Yourself not only provided us with a brand new ski outfit, Lorenzo provided door to door service. Now going to Aspen includes renting skis and calling Suit Yourself. Thanks Lorenzo!"
- Dr. Marc Bloomstein
Scottsdale, Az
Another happy Australian!
"The customer service was great...door to door service. The ski jacket and pants were just what I needed."
- Robert Peake
Australia
Lost Luggage- Unhappy Campers :( Frown turned upside down!
"My wife and I were very unhappy on arrival to Aspen without luggage. We called Suit Yourself. We were surprised by the rapid and friendly service. Lorenzo, our 'suitor', saved us from missing a beautiful ski day in Aspen."
- David C. Markel
Ann Arbor, MI
Big Groups - Bring it on!
"Thank you again for handling our suit rental needs. I've come to Aspen with groups and nothing but a briefcase in my hand and you have outfitted me from head to toe so I can enjoy the slopes with my clients. Whether I come with groups of 100 guests to the St. Regis, or on my own with the family, I look forward to Suit Yourself outfitting us."
- Sincerely,
Josh Brown
Director National Accounts U.S. Motivation Inc.
Atlanta, GA